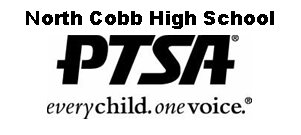 Hello North Cobb Warriors and Families. We are excited to start the 2022-23 school year. This years board members are excited to get the year rolling and to serve our school. If you have any questions or concerns, you can reach out to northcobbptsa17@gmail.com. This year's Exective Team is as follows:
President: Evita Velez
Vice President: April Morrell
Secretary: Latoya Black
Treasurer: Angela Cooper
Don't forget to go to the estore and purchase your spiritwear and join PTSA!! Every member has a voice. Every child, ONE Voice!!